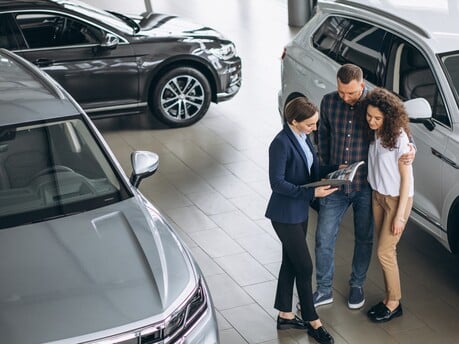 Find out what Personal Contract Purchase (PCP) is and the main benefits of applying for this kind of car finance
You have found the car and now all you need is the finance to put you firmly in the driving seat. With a number of options to choose from, it is important to select the right type of finance solution to suit you and your needs, so we are here to get you started...
What is Personal Contract Purchase (PCP) finance?
Personal Contract Purchase (PCP for short) is a popular car financing option that often offers lower monthly payments compared to a personal loan. It is a way of borrowing money for a new vehicle, which you'll pay back over an agreed period of time before you own it outright.
How does PCP work?
Signing up to PCP finance means you are borrowing money from a lender in order to purchase a vehicle which you wouldn't otherwise have been able to afford as a one-off payment. When you apply for PCP finance, the lender will look into your credit history to ensure you are a reliable borrower.
A PCP agreement is the ideal option if you wish to own a newer vehicle but don't want to pay for it upfront. However, you will also have the option to hand it back too if you'd prefer to upgrade to another model at the end of the term. As such, PCP finance works in three key parts:
Deposit
You'll be required to put down an initial deposit as part of your PCP finance agreement (although some zero deposit deals are available too). This amount will be guided by the lender, but it is usually around 10% of the value of the vehicle itself at purchase price. The bigger the deposit, the less your monthly repayments will be.
Borrowing amount
Depending on how much upfront deposit you pay, will determine how much money you'll need to borrow overall. The lender will calculate this based on the term's duration - which is usually a minimum of 24 months (two years) and a maximum of 48 months (four years) - to work out how much you will pay back each month (with added interest of course).
Contract choices
As a flexible finance option, a PCP agreement allows you a number of choices at the end of the term. You can choose to pay for the vehicle in full and keep it, part-exchange the vehicle at the end of the contract, or return it at the end of the term in order to begin a new agreement. We outline your options in more detail, below…
What happens at the end of a PCP agreement?
Even if you had planned to own the car at the end of the agreement, your preferences may have changed during the term, which is one of the advantages of engaging in PCP vehicle finance. There are three options available to you at the end of a PCP agreement - they are:
Choose to make a final lump sum payment in order to legally own the car
Decide to part-exchange the vehicle by using the equity you will have hopefully built up, as a deposit for your next one
Return the vehicle with no more to pay
Let's start by looking at option one. Known as a 'balloon payment', the final lump sum is how much money is left to pay at the end of your term in order to become the legal owner of the vehicle. Prior to this point, the lender is the registered keeper of the car, van or motorbike. The amount you pay is based on what the vehicle is worth - this is what's referred to as the 'Guaranteed Minimum Future Value' (GMFV) which will be agreed at the beginning.
Option two is an ideal choice if you've decided you don't want to keep the car, but do want to drive a newer model of vehicle. Hopefully you will have built up positive equity in order to fund your next finance deal - this means the car is worth more at the end of the agreement.
Option three is pretty straightforward and means you won't have to pay the final balloon payment. When your agreement comes to an end, you'll simply hand the car back - and assuming there's no damage above what's considered to be standard wear and tear - the finance agreement will end. Bear in mind that you won't be able to keep hold of any positive equity from the car, but equally you won't have to worry if the car has devalued either.
Understand the pros and cons of PCP finance
When it comes to car finance, we want you to make the correct decision. To help, we've drawn up a list of the pros and cons when it comes to choosing PCP finance:
| | |
| --- | --- |
| What are the pros of PCP finance? | What are the cons of PCP finance? |
| You get to choose the upfront deposit amount - zero deposit options are available too! | A final lump sum is required in order to own the vehicle |
| Flexible repayment terms from 24 to 48 months as standard | Exceeding the pre-agreed annual mileage will result in pence-per-mile charges |
| Lower monthly repayments compared to other finance solutions | Any damage above standard wear and tear will cost you in extra charges |
| A choice of three options at the end of the agreement | It is an expensive way to own a car |
| The chance to change your car regularly so you can upgrade | You are tied in to the contract until at least 50% of the total finance cost is paid |
| Potentially building up positive equity towards another vehicle | Your credit rating will affect the interest rate offered by the lender |
| No need to worry about selling the car afterwards | Failure to keep up with repayments can result in your car being repossessed by the finance company |
What details do I need to provide for PCP finance?
In order to apply for PCP vehicle finance, you'll need to submit personal and financial details to the lender who will check your eligibility. Some of the details you'll be expected to share, include:
Your full name, date of birth and marital status
A copy of your driving licence
Your current address and proof of residence via utility bills
Employer's name and address as well as job title and salary (previous employment details may also be required)
Payslips or bank statements for proof of income (likely to be from the last three months)
Self-employed individuals or sole traders will need to provide proof of accounts
Details of any outstanding credit cards or loan agreements
How does the PCP finance application process work?
Applying for PCP car finance is a straightforward process which you can begin online. By using our unique Octane Finance calculator, you can get a direct quote in minutes. Start by entering the registration number of the vehicle in question - you'll need to know what the vehicle is worth and the amount of annual mileage you plan to drive too.
PCP vehicle finance at your fingertips
As an experienced broker specialising in automotive finance, we are best-placed to reach out to a wide number of lenders who can provide you with the funds needed for your new set of wheels. Did you know that we provide finance solutions for not just cars, but for vans and motorbikes too? Our sales support team is here to help at every step, because we care about matching customers with their dream drives.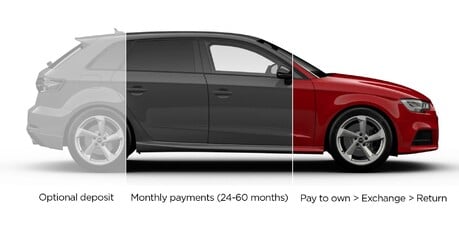 What our customers have to say