Discover what Lease Purchase (LP) is and the main benefits of applying for this form of car finance
Securing finance can be an ideal solution to driving a new vehicle, without paying a huge upfront cost - instead, you will be able spread the cost into manageable chunks. Accelerate your journey to driving your dream car by finding the right form of finance to suit you…
What is Lease Purchase (LP) finance?
Much like a Personal Contract Purchase (PCP) deal, a Lease Purchase (LP for short) agreement means you borrow money from a lender in order to own a new vehicle eventually. The difference with LP though is that you are required to pay off the final lump sum (also known as a 'balloon payment') in order to own the car - there is no option to hand it back at the end.
As such, Lease Purchase is a popular form of finance for motorists who want to own a premium brand of car worth at least £25,000 or more - including those in the prestige and supercar market.
How does Lease Purchase finance work?
LP finance allows you to spread the cost of a vehicle across a series of monthly payments during a set period of time. Remember that this form of finance requires you to take ownership of the car once the final payment has been made, so it should only be considered if you wish to own the vehicle at the end of the contract. Lease Purchase works in three ways:
Deposit
A deposit will be required to begin your LP agreement which will be offset against the total price you owe back to the lender. Although a 10% deposit of the total value of the car is recommended, it is possible to put down as much as 50% to make the monthly repayments much lower.
Borrowing amount
Your monthly payments will be dictated by the upfront deposit you pay, as well as the duration of the contract. Typically, Lease Purchase terms usually last between 24 months (two years) to 48 months (four years) as standard and tend to have some of the lowest monthly repayments out of all the financing options.
This is because they only cover part of the total cost of the car during the agreed duration - the rest will be paid via a final 'balloon payment'. We explain more about this, below…
Contract choices
While the monthly repayments for a Lease Purchase finance deal may be lower compared to PCP or HP (Hire Purchase) solutions, you will need to consider the fact that at the end of the contract, you'll be required to pay a large lump sum.
Unlike a PCP or HP deal, there is no option to return the vehicle to a finance company. As such, an LP contract is only beneficial to those who wish to own a car in the long term. Known as a 'balloon payment' the final instalment can end up being several thousand pounds, so you'll need to account for this when the agreement comes to an end.
What happens at the end of a Lease Purchase agreement?
As we've mentioned, you will need to pay a final lump sum payment at the end of an LP agreement. But, there are options available to you that could help; it may be possible to extend the lease purchase contract to make additional monthly payments or refinance the vehicle in order to pay off the final balloon payment.
Understand the pros and cons of LP finance
Of course, there are many advantages and disadvantages to opting for car finance. To help you make a decision, we've listed the key pros and cons of Lease Purchase finance in our handy table, below:
| | |
| --- | --- |
| What are the pros of LP finance? | What are the cons of LP finance? |
| Lower monthly payments compared to other finance options | You'll need to pay a large final lump sum |
| You will own the vehicle at the end of the contract | There's no option to hand the vehicle back at the end of the agreement |
| As such, you won't be penalised for any damage incurred during the agreement | The vehicle can be repossessed if you don't keep up with monthly payments |
| There aren't any annual mileage restrictions at all | Contracts do not include the option for maintenance or servicing |
| Ideal if you wish to own a premium brand of car | Not ideal for a car worth under £25,000 |
What details do I need to provide for Lease Purchase finance?
When you apply for LP finance, the lender will need to know a number of details about you first. Avoid any delays to the process by having the following information available:
Your full name, date of birth, and marital status
A copy of your driving licence
Your current address and proof of residence via utility bills
Employer's name and address as well as job title and salary (previous employment details may also be required)
Payslips or bank statements for proof of income (likely to be from the last three months)
Self-employed individuals or sole traders will need to provide proof of accounts
Details of any outstanding credit cards or loan agreements
How does the LP finance application process work?
Get started right away by applying for Lease Purchase finance online today! You can even estimate what your monthly payments will be by accessing our Octane Finance calculator to give you a better idea of budgeting. Enter the registration plate of the vehicle in question, tell us how much it is worth and how many miles you expect to drive each year too.
Lease Purchase vehicle finance at your fingertips
When it comes to sourcing a Lease Purchase finance deal that suits you, we can lend a helping hand. Our dedicated team has years of experience under their belts in achieving the right kind of finance for customers just like you - whether you wish to own a new car, van, or motorbike. Get in touch - we're available to talk to 7-days a week, so don't be shy!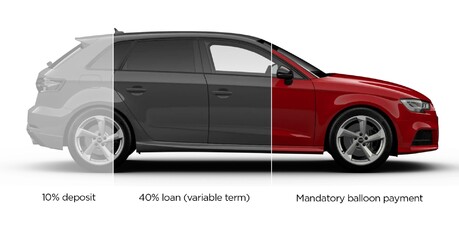 What our customers have to say